Short report about Glenogil excursion June 2016
Some general results
In total we detected 91 bird species in 2016 whereas it was 63 species in 2015. The remarkable increase can be explained by the season. In total at least 98 bird species can be assumed as breeding or regular guests in Glenogil. 7 species could be detected only in 2015, 35 only in 2016 and 56 species are confirmed in both years (see figure 1).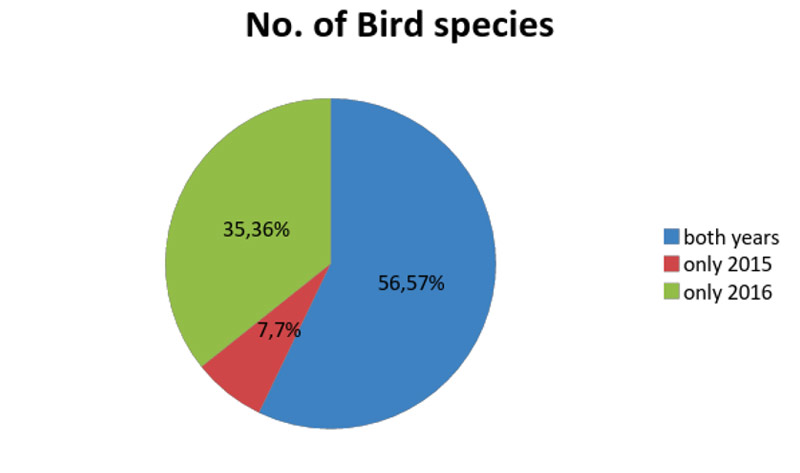 Figure 1: Numbers of bird species found in Glenogil in the years 2015 and 2016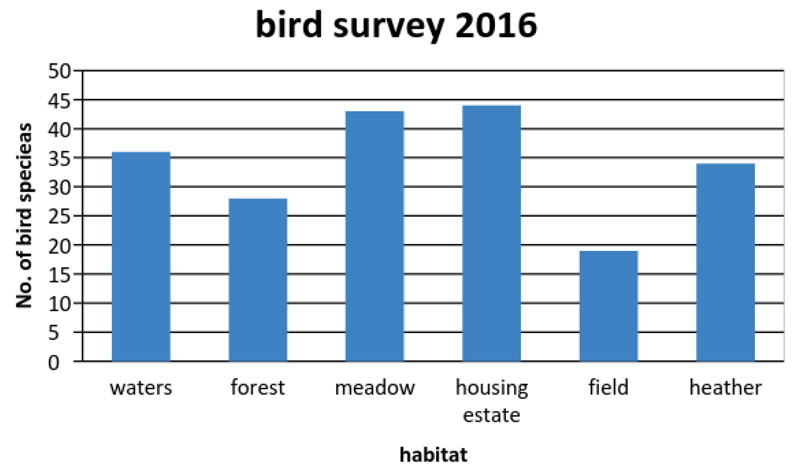 Because birds use different habitats we separated the main habitat types in Glenogil. When a bird was detected in one habitat type we assigned it as realted.
Table 1: Bird species 2016 in Glenogil
| No. | English name | 2015 | 2016 | 2017 | Total (no. of years) |
| --- | --- | --- | --- | --- | --- |
| 1 | Barn Owl | 1 | 1 | 1 | 3 |
| 2 | Barn Swallow |   | 1 | 1 | 2 |
| 3 | Black bird | 1 | 1 | 1 | 3 |
| 4 | Black Coot |   | 1 | 1 | 2 |
| 5 | Black Grouse | 1 | 1 | 1 | 3 |
| 6 | Black Redstart | 1 | 1 | 1 | 3 |
| 7 | Blackcap |   | 1 | 1 | 2 |
| 8 | Black-headed Gull | 1 | 1 | 1 | 3 |
| 9 | Blue Tit | 1 | 1 | 1 | 3 |
| 10 | Brown Owl |   | 1 | 1 | 2 |
| 11 | Bullfinch | 1 | 1 |   | 2 |
| 12 | Buzzard | 1 | 1 | 1 | 3 |
| 13 | Carrin Crow | 1 | 1 | 1 | 3 |
| 14 | Chaffinch | 1 | 1 | 1 | 3 |
| 15 | Chiffchaff | 1 | 1 | 1 | 3 |
| 16 | Coal Tit | 1 | 1 | 1 | 3 |
| 17 | Collared Dove |   | 1 | 1 | 2 |
| 18 | Common Gull |   | 1 | 1 | 2 |
| 19 | Common House Martin |   | 1 | 1 | 2 |
| 20 | Common Linnet |   | 1 |   | 1 |
| 21 | Common Moorhen |   | 1 | 1 | 2 |
| 22 | Common Redpoll |   |   | 1 | 1 |
| 23 | Common Sandpiper | 1 | 1 | 1 | 3 |
| 24 | Common Siskin |   | 1 | 1 | 2 |
| 25 | Common Stonechat |   | 1 | 1 | 2 |
| 26 | Common Swift |   | 1 | 1 | 2 |
| 27 | Common Treecreeper |   | 1 | 1 | 2 |
| 28 | Common Whitethroat |   | 1 | 1 | 2 |
| 29 | Cuckoo | 1 | 1 | 1 | 3 |
| 30 | Curlew | 1 | 1 | 1 | 3 |
| 31 | Dabchick |   | 1 | 1 | 2 |
| 32 | Dipper | 1 | 1 | 1 | 3 |
| 33 | Domestic Pigeon |   | 1 | 1 | 2 |
| 34 | Donnock |   | 1 |   | 1 |
| 35 | Fieldfare | 1 |   | 1 | 2 |
| 36 | Garden Warbler |   | 1 |   | 1 |
| 37 | Goldcrest |   | 1 | 1 | 2 |
| 38 | Golden Eagle | 1 |   |   | 1 |
| 39 | Golder Plover | 1 | 1 | 1 | 3 |
| 40 | Goldfinch |   | 1 | 1 | 2 |
| 41 | Great spotted Woodpecker | 1 | 1 | 1 | 3 |
| 42 | Great Tit | 1 | 1 | 1 | 3 |
| 43 | Greenfinch |   | 1 | 1 | 2 |
| 44 | Grey Heron | 1 | 1 | 1 | 3 |
| 45 | Grey Partridge | 1 |   |   | 1 |
| 46 | Grey Wagtail | 1 | 1 | 1 | 3 |
| 47 | Grey-lag Goose | 1 | 1 | 1 | 3 |
| 48 | Hen Harrier |   |   | 1 | 1 |
| 49 | Herring Gull | 1 | 1 | 1 | 3 |
| 50 | House Sparrow | 1 | 1 | 1 | 3 |
| 51 | Jack Snipe |   |   | 1 | 1 |
| 52 | Jackdaw | 1 | 1 | 1 | 3 |
| 53 | Jay | 1 | 1 | 1 | 3 |
| 54 | Kestrel | 1 | 1 | 1 | 3 |
| 55 | Kingfisher |   |   | 1 | 1 |
| 56 | Lapwing | 1 | 1 | 1 | 3 |
| 57 | Lesser Black-backed Gull | 1 | 1 | 1 | 3 |
| 58 | Long-tailed Tit | 1 |   |   | 1 |
| 59 | Magpie | 1 | 1 | 1 | 3 |
| 60 | Mallard | 1 | 1 | 1 | 3 |
| 61 | Marsh Tit |   | 1 | 1 | 2 |
| 62 | Meadow Pipit | 1 | 1 | 1 | 3 |
| 63 | Merlin |   | 1 | 1 | 2 |
| 64 | Mistle Thrush |   | 1 | 1 | 2 |
| 65 | Mute Swan | 1 | 1 | 1 | 3 |
| 66 | Osprey |   | 1 | 1 | 2 |
| 67 | Oystercatcher | 1 | 1 | 1 | 3 |
| 68 | Peregrine Falcon | 1 |   | 1 | 2 |
| 69 | Pheasant | 1 | 1 | 1 | 3 |
| 70 | Pink-footed Goose |   | 1 |   | 1 |
| 71 | Raven | 1 | 1 | 1 | 3 |
| 72 | Red Grouse | 1 | 1 | 1 | 3 |
| 73 | Red Kite | 1 | 1 | 1 | 3 |
| 74 | Red-legged Partridge | 1 | 1 | 1 | 3 |
| 75 | Redshank | 1 | 1 | 1 | 3 |
| 76 | Reed Bunting |   | 1 |   | 1 |
| 77 | Ring Ouzel |   |   | 1 | 1 |
| 78 | Robin | 1 | 1 | 1 | 3 |
| 79 | Rook |   | 1 | 1 | 2 |
| 80 | Sand Martin | 1 | 1 | 1 | 3 |
| 81 | Short-eared Owl | 1 |   | 1 | 2 |
| 82 | Skylark | 1 | 1 | 1 | 3 |
| 83 | Snipe | 1 | 1 | 1 | 3 |
| 84 | Song Thrush | 1 | 1 | 1 | 3 |
| 85 | Sparrow Hawk | 1 | 1 | 1 | 3 |
| 86 | Spotted Flycatcher |   | 1 | 1 | 2 |
| 87 | Starling | 1 | 1 | 1 | 3 |
| 88 | Stock Pigeon |   | 1 | 1 | 2 |
| 89 | Teal |   | 1 |   | 1 |
| 90 | Tree pipit |   | 1 | 1 | 2 |
| 91 | Tree Sparrow |   | 1 |   | 1 |
| 92 | Tufted Duck | 1 | 1 | 1 | 3 |
| 93 | Western March Harrier |   | 1 |   | 1 |
| 94 | Wheatear | 1 | 1 | 1 | 3 |
| 95 | Whinchat |   | 1 | 1 | 2 |
| 96 | White Wagtail | 1 | 1 | 1 | 3 |
| 97 | White-tailed Eagle | 1 |   |   | 1 |
| 98 | Wigeon | 1 | 1 | 1 | 3 |
| 99 | Willow Warbler | 1 | 1 | 1 | 3 |
| 100 | Wood Pigeon | 1 | 1 | 1 | 3 |
| 101 | Woodcock | 1 | 1 | 1 | 3 |
| 102 | Wren | 1 | 1 | 1 | 3 |
| 103 | Yarelli Wagtail |   | 1 | 1 | 2 |
| 104 | Yellowhammer | 1 | 1 | 1 | 3 |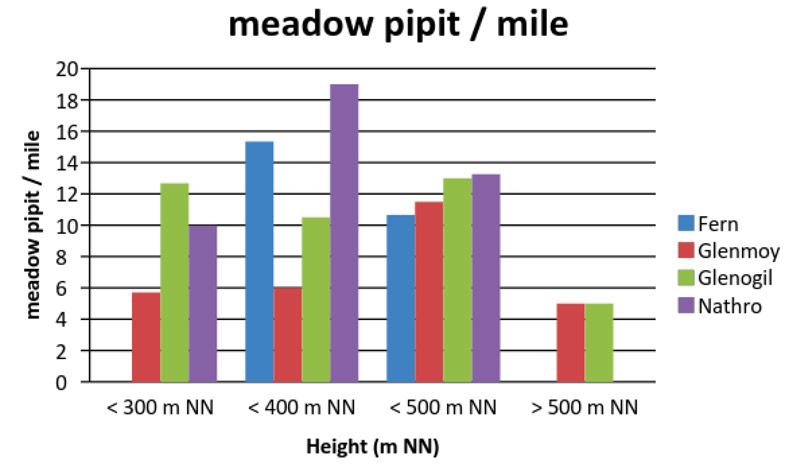 Figure 5: Meadow pipit as a common bird in Glenogil
Table 2: Numbers of different bird species and mountain hares counted during the line taxation
|   | Curlew | Lapwing | Mountain hare | Golden Plover | Raven | Buzzard |
| --- | --- | --- | --- | --- | --- | --- |
| Fern | 4 | 2 | 3 | 2 | 2 | 6 |
| Glenmoy | 13 | 26 | 5 |   |   |   |
| Glenogil | 3 |   | 52 | 8 |   | 3 |
| Nathro | 8 | 27 | 10 |   |   | 3 |